Evolis ID Card Printers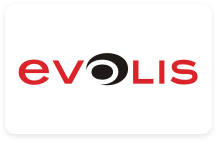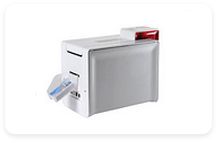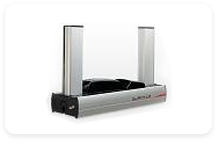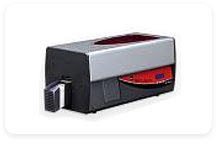 Evolis designs, manufactures and markets a comprehensive range of plastic card printing solutions. These card printers can be fitted with options for graphic, magnetic and electric (contact and RFiD contactless chip cards) personalisation of all kinds of cards (Employee ID Cards, Student ID's, Payment cards, Conference & Event Badges etc). Evolis printers make plastic card printing widely available and affordable by offering simple on-demand and customised printing solutions that bring quality to the largest scope of business users.
From the comprehensive range of Evolis printers available a printer model will be found to match your card printing requirements.
Tattoo Rewritable Plastic Card Printer
The Evolis Tattoo RW is a printer for single sided rewritable cards. It effortlesslytattoo matches all your expectations when it comes to flexibility, affordability, sustainable development and regular data updates.
A new card can be delivered anytime it is required. The erase/write cycle is extremely fast and cards can be erased, encoded and re-printed with new data in a matter of seconds.
This revolutionary re-writable technology requires no ribbon which translates into valuable savings. No need to throw away your cards each time an update is required, erase and re-print only updated data onto the existing card.
Now with the Tattoo RW, data encoded on magnetic stripes or on contactless chips can also be displayed and updated on the card surface. For example, loyalty points can be printed on a card at each checkout.
Zenius Single Sided Plastic Card Printer
With Zenius , Evolis unveils its new conception of plastic card personalisation, with a clear focus on the user and unmatched printing quality. Zenius, the first eco-designed printer, stands out with its optimised features and a compact and sleekZenius design.
Zenius benefits from new consumables and the ability to provide ease of use and performance levels that set the new benchmark in the market.
Zenius is the one stop solution to print high quality single sided cards, in monochrome or colour, and encode technology cards in single or small runs, for a variety of applications; Employee Badges, Access Control Badges, Payment Cards, Conference and Event Badges and many many more.
Primacy Single / Dual Sided Plastic Card Printer
The new Evolis Primacy is a flexible, high end single or dual sided ID Card PrinterPrimacy that is easy to use, flexible and fast. Loaded with Evolis cutting edge technology, Primacy is the ideal solution for issuing cards in a variety of environments. Ideal for medium to large runs of card printing, the Primacy is the perfect option to deliver a multitude of cards, such as ID Badges, Payment Cards, Training Certification, Conference and Event Badges, and many many more.
Quantum Dual Sided High Volume Plastic Card Printer
The Evolis Quantum prints cards either single sided or dual sided in colour or monochrome, delivering 1000 cards monochrome, one side per hour. Twoquantum detachable and interchangable hoppers each can hold a card capacity of 500 cards enabling a personalisation process that matches the flexibility of a desktop printer with the power of an industrial printer.
From card manufacturers to service bureau's or even banks and universities. It provides the flexibility to meet any customer requirement at any time such as identification cards, loyalty cards, transportation passes, event passes, payment cards etc.
To speed up personalisation, Quantum comes with a detachable and reversible encoding unit that can combine magnetic, smart contact and contactless encoders. With this feature, a card can be printed and encoded on the same side without having to be flipped over.
Securion Secure Dual Sided Plastic Card Printer.
The Evolis Securion is a one-stop solution for personalising and laminating secure badges in a decentralised way. The printer meets growing concerns about security and data forgery, while greatly extending the lifespan of any card. The printersecurion offers dual-sided operation on both the colour printing module and the lamination station. The badge is first processed through any encoding followed by graphical personalisation. Then a protection film, in the format of a varnish or a patch, is applied over the full card surface. Printing, encoding and laminating a secure badge are carried out in a single pass.